MUSIC FOR ALL ASPECTS OF YOUR
                            CORPORATE EVENT, PARTY OR WEDDING!
THANK YOU FOR BOOKING US FOR YOUR EVENT!
65th Birthday Party, Sat, Nov 11, 3 - 5 PM
31 Produce, Alva, Thurs, Nov 16, 5 - 8:30 PM
Come Celebrate Dave's  Birthday With Us at University Villages 
and Miromar Outlets on Sat, Nov 18 and Sun, Nov 19
University Villages, Tacos & Tequila Sat, Nov 18, 6 - 9 pm
Miromar Outlets, Fords Garage Sun, Nov 19, 1 - 4 pm
Wedding - Matthew & Victoria, Georgia 11-25-23
Jungle Bird, Cape Coral, Monday's Starting 1-01-24, 7-10pm
Thank you Florida Weekly Newspaper for selecting us for SWFL Top Picks!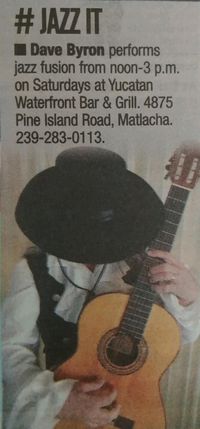 What brides and grooms are saying about our service: 
Dear Deb and Dave, Looking back at our wedding, all we can say is "WOW!" Your talent was what made the day without a doubt--from Dave's amazing guitar skills, to Deb managing our eclectic (to say the least) song list, MC-ing and lighting. We were initially considering DIY-ing the reception with an iPod and are SO glad we didn't! We received tons of compliments about you and were sure to pass your name along. Thank you for your patience, professionalism, and everything you did to make the day unforgettable! ~Ashley and Hormozd  
Best farewell brunch performance ever! Dave put on an outstanding display of guitar playing at the post wedding brunch for our son's wedding. A true professional in every sense and consummate performer - he played nonstop for three hours and provided a great blend of his original music and classic hits. Everyone loved his music! We could not be happier with Dave and would recommend him to anyone looking to have a guitarist perform at their event. ~Joe and Linda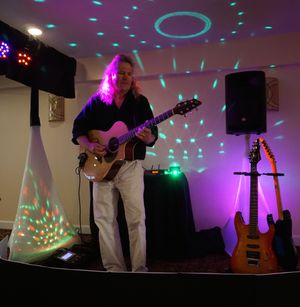 Sampler Video
    WELCOME, we are family owned and operated with over 25 years experience in the entertainment industry. You deal directly with the owners from start to finish. Our focus and understanding is making your corporate event, party or wedding the most memorable and special day of your life. 
 We are your full service musical entertainment with each aspect listed below. We travel all over the U.S., Canada, South America and Europe performing and providing musical entertainment for various events. Please enjoy your time as you navigate through our website of photos, audio of songs and videos of live performances.
 WEDDING CEREMONY
 You choose the song selections for your Wedding Ceremony. Dave performs live for the arrival and seating of your guests, your song selections for processional, bride, unity candle/sand ceremony and recessional. Dave will continue performing upbeat celebratory compositions as your guests are greeting you through your receiving line and exiting the ceremony area.
 COCKTAIL MUSIC
 International Guitarist - Dave Byron performs various compositions in the styles of Classical, Jazz, Soft Rock, Latin, Spanish and Flamenco. His original compositions mixed with popular cover songs adds a nice touch of class in making your wedding, corporate event or party very memorable and special for both you and your guests.
 DINNER MUSIC
 International Guitarist - Dave Byron will grace you and your guests with his original compositions, popular cover songs and pleasing tones. Dave performs a nice mix of Classical, Jazz, Soft Rock, Latin, Spanish and Flamenco while you and your guests are enjoying dinner.
 INTERACTIVE DJ SERVICES
 DJ Dave Byron gets the dance portion of your reception started with your requested dances and then we step it up playing all your favorite songs. DJ Dave also spices up your reception by playing along with songs on his guitar, a wireless system allows him to interact with you and your guests on the dance floor for a unique and unforgettable evening. Lights are always included FREE. See Dave in action by clicking on Videos.
HIRE US FOR ALL AREAS OR A PORTION
We work with you to formulate a timeline of events to make your wedding, corporate event or party a memorable and special one for both you and your guests.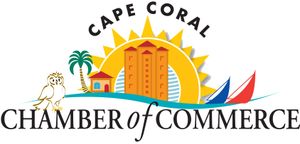 Dave Byron Music LLC 
North Fort Myers, FL   phone: 239-292-5697
Payments secured by PayPal
Dave Byron - 5 Star Performer